Directions to our Seattle B&B
If you are looking for places to stay in Seattle, WA, look no further. The Greenlake Guest House Bed and Breakfast offers Seattle, Washington lodging in a residential neighborhood across the street from Green Lake Park. An inviting alternative to chain hotel accommodations, our B&B also is convenient to the University of Washington, Woodland Park Zoo, and Ballard. Downtown attractions and Pike Place Market are just a ten-minute drive away. View the top things to do in Seattle here!
From Sea-Tac Airport or from south of Seattle, follow signs to I-5 Northbound towards Seattle. From I-5 North, take exit #170 (Ravenna/NE 65th Street). At end of ramp turn left onto Ravenna Boulevard heading north. Go 0.75 mile. Take a right (at lake) onto E. Green Lake Drive N. Go 0.3 mile. Greenlake Guest House is located on the right hand side on the corner of E. Green Lake Dr. N and Orin Court. Look for green house with tan trim and house number 7630
From north of Seattle, follow I-5 South towards Seattle to exit #172 (NE 80th St.). This is a shared exit with N. 85th Street. Turn right onto NE 80th St and drive several blocks. Turn left onto Wallingford Ave N. Go 1 block. At light, turn left onto E. Green Lake Dr. N. Go 3 blocks. Greenlake Guest House is located on the corner of E. Green Lake Dr. N. and Orin Court. Look for green house with tan trim and house number 7630.


Transportation options:
Coming from SeaTac Airport, follow signs to "Ground Transportation" from gates for Buses, Taxis, or Airport Shuttles or Rental Cars. No reservation is needed from SeaTac Airport to the Greenlake Guest House. See Airport Ground Transportation.
Taxi costs approximately $50-60 to airport from The Greenlake Guest House and take about 30 minutes (about 45 minutes during rush hour). Call Yellow Cab @ 206-622-6500.
Towncar Services are available by reservation only. Many guests use ABC Towncar for $45 each way. 206-242-0102.
Uber and Lyft are very popular in Seattle and usually available within a few minutes. Download the app. Cost from airport is typically $30-$35 depending on traffic and availability.
Shuttle Express costs approximately $45 for one guest. Discounts for multiple guests or round trip reservations. Children 12 and under are free. Shuttle Express will pick you up at the Greenlake Guest House 2-3 hours before your scheduled flight. Call 425-981-7000 or visit their websiteShuttle Express.
Public Transit Take the light rail for 45 minutes to its last stop (University of Washington)and connect with Metro bus route #45 heading Northwest to Loyal Heights. Route 45 comes every 15 minutes and stops in front of the Greenlake Guest House. Total trip from airport is about 60-75 minutes using public transportation.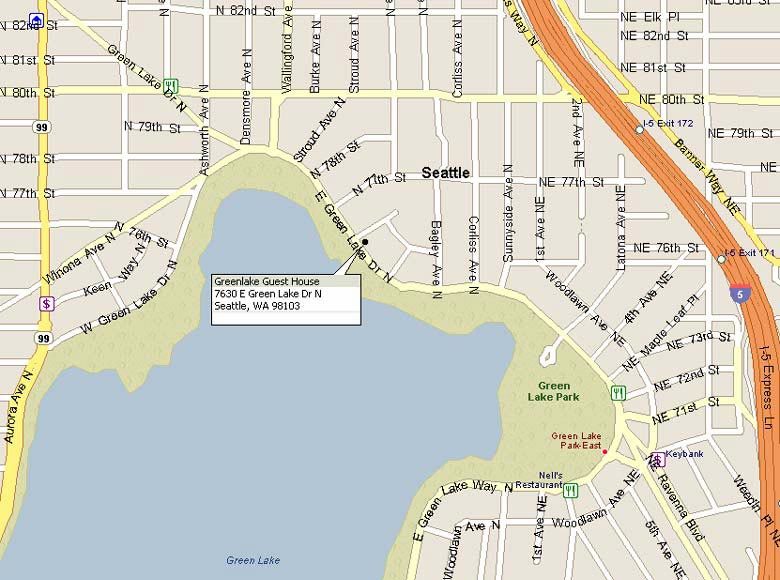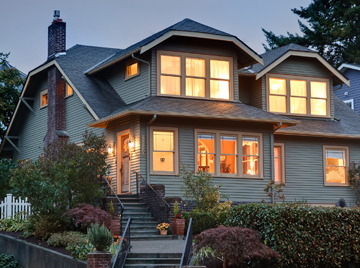 "I will not hesitate to recommend this lovely B&B to my friends. Your family is enjoyable and your plans sound wonderful. The beds were so comfortable and everything so beautifully decorated and the food is delicious! Best wishes and good luck, we hope to see you again."
- Marjorie J.