December 5, 2016 by: Julie & Blayne Mcaferty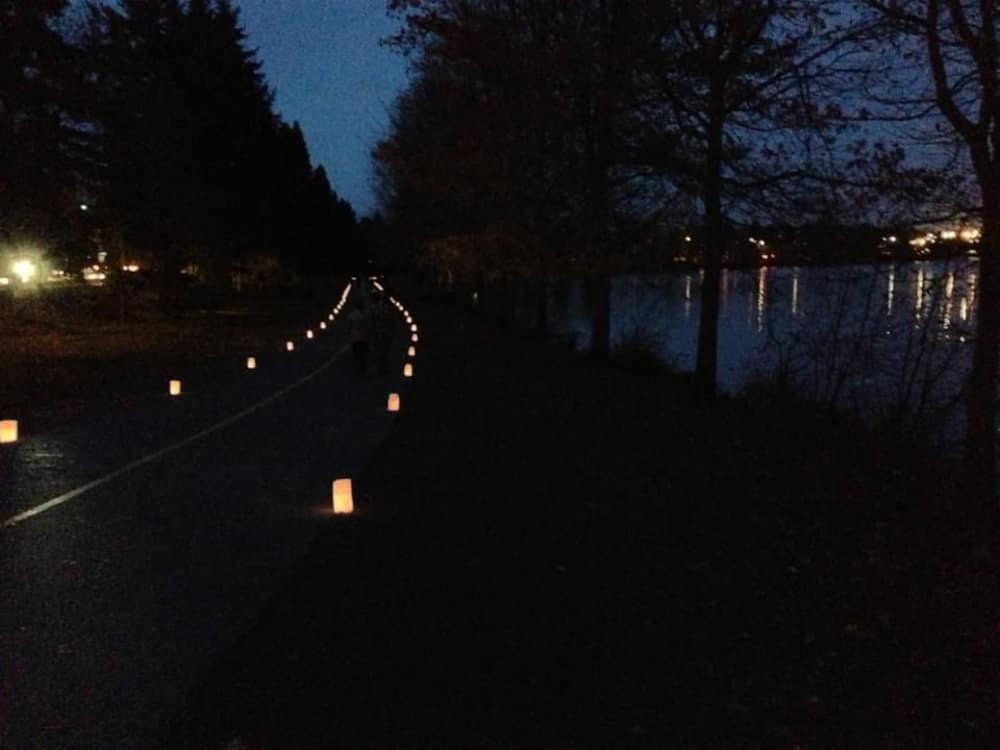 What to do in Seattle During December
The weather is gloomy and the skies are dark, but that doesn't stop Seattle communities from lighting up the night with bright Christmas cheer.
Look anywhere in the city to find a holiday event; many of the events are free!
Pathway of Lights at Green Lake
December 10, 4:30 – 7:30 PM
This stunning event lights up the 2.8-mile path around Green Lake with luminaries contributed by visitors and Seattle Parks and Recreation. Local musicians add to the ambiance with seasonal tunes at four points around the lake: the Green Lake Community Center, the Green Lake Small Craft Center, the Bathhouse Theater, and the arch. Visitors can sip hot chocolate or cider as they take in the view.
The event is free, but non-perishable food donations are suggested.
Wildlights at the Zoo
November 25 – January 1 (Closed December 24 and 25) 5:30 – 8:30 PM
The Woodland Park Zoo never fails to come up with creative events that locals and visitors alike come to enjoy. Every year, the zoo displays more than 600,000 energy-efficient, colorful lights in the shapes of animals and wild places. The zoo's Snowmazium is filled with fake snow for kids and kids at heart to build snowmen, make snow angels, and have snowball fights. And there's no end to things to do: ride on the lit-up carousel, meet the reindeer, take a peek at nocturnal creatures, shop the ZooStore, and for guests 21 and over, sip on beer, mulled wine, or spiked cider. Check the Wildlights calendar for other events, like getting a photo with Santa from December 19th to the 23rd.
Candy Cane Lane
December 3 - December 25
Since 1949, Candy Cane Lane has lit up Ravenna Boulevard with festive holiday lights and decorations fit around a theme. The 23 participating Tudor houses draw crowds every year with their popular light displays. Expect to find slow-moving traffic as cars inch along through the street. If you're lucky, Santa Claus will make a surprise appearance and pass out candy canes!
For those looking for dinner or sweet treats after getting into the Christmas spirit, University Village is only five minutes away.
Visitors can find a food donation site at the end of the lane.
Gingerbread Village at the Sheraton Seattle Hotel
November 22 – January 1
Fans of Harry Potter can't miss out on the magical gingerbread village at the Sheraton Hotel this year. In this special annual event, local architecture firms and the hotel's culinary team join together to create gingerbread masterpieces that can be viewed in the lobby 24 hours a day. The designers get a new theme every year, with this year's 24th annual event revolving around J. K. Rowling's wizarding world. Visitors get the chance to vote for their favorite display.
The event is free, but suggested donations go to the Juvenile Diabetes Research Foundation Northwest Chapter.
Pacific Place Snow Shows
November 25 – December 24, 6 & 7 PM Mon. – Sat., 5 & 6 PM Sun.
Miss the snow, but not the hassles it causes? Head over to Pacific Place's nightly snow shows, 10-minute shows in the Atrium where snow magically falls from the ceiling. Santa can be found on the second floor in his bulb ornament chair, where kids can chat with him and get pictures taken.
This free show is fun for kids and adults alike, and can be a delightful end to dinner or a day of shopping.
Holiday Carousel at Westlake Park
November 25 – January 2
There's nothing quite like spinning around on an ornate, old-fashioned carousel, and when you add strings of holiday lights, the experience becomes magical. The Macy's Christmas star shines bright above the decked-out Westlake Park and wooden carousel, creating an air of holiday wonder. Visitors can treat themselves with such delicacies as fresh donuts or scones from the food trucks and stands that frequent the park. The ride is a regular Seattle tradition, and is in its 30th year of operation.
Proceeds by donation go to Treehouse, a local charity that gives school supplies, birthday presents, and other resources to foster children.
Other Events
Remember that there are also many concerts and performances happening in Seattle throughout December. Or, you can simply stay "home" at the Greenlake Guest House and enjoy the B&B decorated for Christmas, a crackling fire, 25 Days of Christmas Cookies and more!