December 22, 2016 by: Julie & Blayne Mcaferty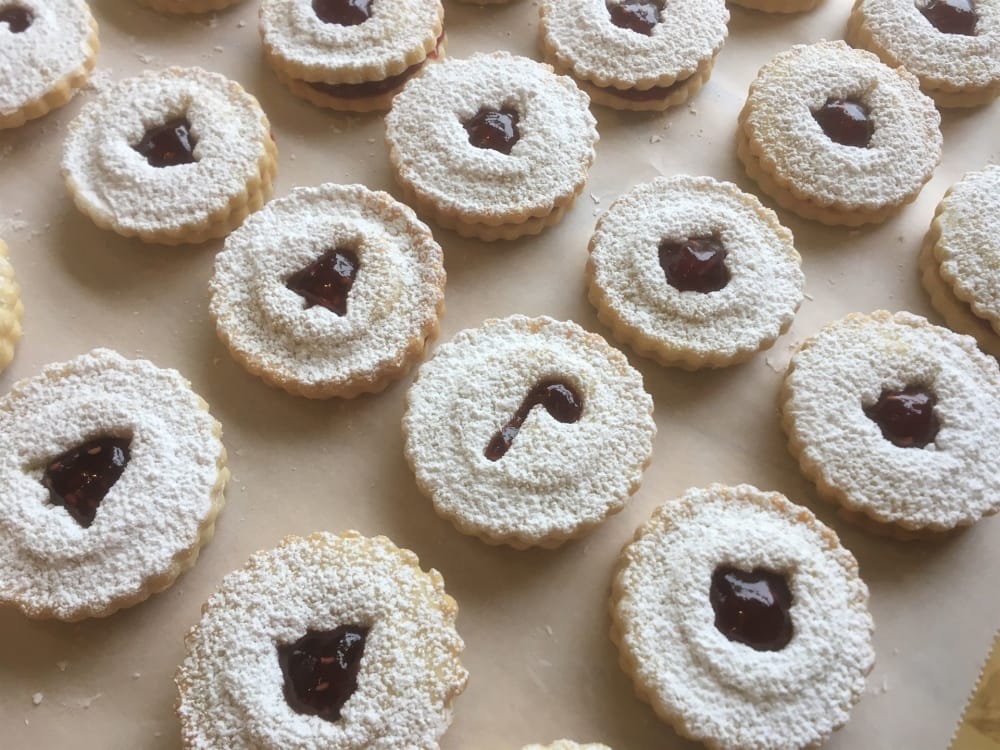 More Christmas Cookie Recipes Dec. 8-25
Yes, the 25 Days of Christmas Cookies continues! We have tried quite a few new recipes this year, plus a few old favorites. With Chritmas carols playing in the background, we had some happy afternoons. Assistant Innkeepers Sarah and Linsy helped with a lot of the baking this year, as well as our Interim Innsitters Gary and Liz, so I need to give them credit too. Here are our recipes for cookies from December 8-25. Merry Christmas!
December 8- Butter Pecan Turtle Bars: We've been making these delectable bars for a few years now. This recipe is from the Creme de Colorado Cookbook and we featured it on our blog last year.
December 9-Raspberry LInzer Cookies: Julie bought a Linzer cookie cutter set and then was obsessed with making these showy raspberry jam-filled sandwich cookies. They are a lot of work but worth it.
December 10-Christmas Cornflake Wreaths: Try not to be put off by the green food coloring-these cookies are cute and very tasty! Like a rice krispie treat but made with corn flakes. We used sprinkles to decorate them but it would be cute with mini M&M's or red hots.
December 11-Peanut Blossoms: Julie's Aunt Bette made these every year. Every kid's favorite! Cook them in balls so that the chocolate kiss stays put. I make them with butter not shortening.
December 12-Chocolate Lace Sandwich Cookies. We tried this recipe for the fist time last Christmas. Definitely a keeper-dainty and delicious! Recipe originally from Sunset Magazine.
December 13-Christmas Macaroons: This is another repeat from last year. Coconut goodness. This year we topped them with red and green M&M's.
December 14-Chocolate-Covered Pretzel Rods: These were so pretty and really fun to make. We tried them with both white chocolate and regular chocolate chips-just melt them in a tall glass in the microwave with about a tablespoon of shortening and then dip and sprinkle. I love the sweet-salty taste combo. This would be a good one to do with kids.
December 15-Chocolate Crinkle Cookies: Why have I not been baking these all my life? They are easy and delicious and very pretty. Lots of great chocolate flavor. Definitely going to be a regular around here.
December 16-White Christmas Dream Drops: This meringue cookie is topped with crushed peppermint candies and has surprise white chocolate chips inside. Blayne absolutely loved them and they are a nice change from the usual butter-rich cookie.
December 17-Lemon Bars: Classic lemon bars are always welcome and good lemons are easy to find. Another Blayne favorite that we made last year too.
December 18-Chocolate Star Cookies: Another very showy, pretty cookie that takes more time than some. The dough is pretty sticky so not easy to roll out and shape.
December 19-Spritz Cookies: Another classic Christmas cookie! I've had a spritz cookie press for years and have never used it. They are tasty but do tend to stick the press.
December 20-Nanaimo Bars: A favorite from Julie's Aunt Bette! Love, love, love these bars. Cutting them before they totally get hard really helps to get a nice clean edge.
December 21-Sugar Cookies: This is the classic Betty Crocker Christmas cookie I grew up with. I always make them with almond extract rather than vanilla. I usually make the dough ahead of time on a quiet day and put it in the freezer. Thaw it overnight then roll it out and bake the cookies on a convenient day. Frost the next day if you like-that's what I did.
December 22-Date-Nut Pinwheel Cookies: Assistant Innkeeper Sarah found this dough to be quite sticky and cracked easily when being rolled up, but the end result was delicious. Next time we will roll them out a bit thinner. We used pecans instead of walnuts for better flavor.
December 23-Mexican Hot Chocolate Cookies This recipe came to us from Julie's friend Jane and has been a favorite ever since. Chocolate, cinnamon, and just hint of spice makes for a very tasty (and pretty) cookie that is rolled in cinnamon sugar prior to baking.
December 24-Raspberry and Almond Thumbprint Cookies This is the easier version of a Linzer cookie. Raspberry and Almond-what is not to like? And they look so festive!
December 25-Miniature Cheesecakes-Another family favorite of Julie's. This recipe came from Aunt Bette. A lot of work, but worth it! Recipe makes about 60 cookies. You will need to have miniature muffin trays and mini paper liners on hand. I wish I had had more of the trays as it would have gone a little faster.
Be sure to see our photos of the cookies on
Facebook
and
Instagram.
Step 3: 1-1/2 cup sour cream, 3 Tbsp. sugar, 1-1/2 tsp vanilla. Mix and spread to edges of cake about 1 teaspoonful. Bake at 425 for 5 minutes. Decorate with tiny piece of maraschino cherry before last baking if desired. Remove paper cups in 10-15 minutes. Freeze separately, then place in bag to store for up to a month or so. Serve very cold or even partially frozen. These are ready and waiting in my freezer now!Step 2: 1 lb cream cheese, 1 tsp. vanilla, 2 eggs, 3/4 cup sugar. Mix at medium speed for 20 minutes. Put about 1 teaspoonful on crust and bake in 325degree oven for 20 minutes. Remove from oven and turn heat to 425 degrees.Step 1: 2 1/4 cups crushed graham crackers, 3 Tbsp. sugar, 6 Tbsp. melted butter. Mix together and put scant Tbsp in miniature muffin paper liner and press down with flat glass (shot glass works well).